First very low budget grow Cuttings : 3x BigBud 3x AK Lamps : 6 CFL's 1521Lumen/Lamp (9126 Lumen TOTAL) 13Watt (corresponds to performance 100Watt) 2700 kelvin neutral white light (use them the hole grow circle)
The Lamps : I went to a hardware store and had a look for the highest amount lumens per lamp that I could found. I found those with 1521 lumens and 2 700 kelvin neutral white light. The use 13 watt and corresponds to performance about 100 watt (But I don't even know if that makes a different in growing because that would mean that the lamps are equal to a 600Watt lamp but the wattage dose not matter only the light brightness matters). I got my self at the beginning only 2 Lamps because I thought that will be enough but only two lamps where just a bit more than 3 000 lumens. So I decided to go get 4 more to get a total of 6 lamps so that very plant got his own little sun. Total of 9 126 Lumens. The Light Circle : I looked a lot around in the internet to get a bit information about the perfect light time for the plants. Some websites tell you that you could go with a 24/0 light circle so no dark phase and there also some who say that an 18/6 circle would fit. I went with a 21/3 light circle to make a compromise between those to recommendations. So from 1:00am until 11:00pm the lights are turned on. The Grow box : Another thing I got from the hardware store was the growing box. I used 2 regular packing boxes in the size of 65cm length, breadth 35cm and height of 37cm. I place them on the breadth side to get the height of 65cm. So the ground space would be about two times 1,3m2 so a total of 2,6m2 grow space. I covered the inside with white paper to make the walls more reflective. Soon I needed to raise the box up with some strings.
500ml Hesi Flower Complex &10ml Hesi Super Vit for 9€. Added for the first time Fertilizer after one week from purchase day of the cuttings.
I got the little cuttings pulled them out of the transportation bag and straight under my small 11 Watt CFL desk light. I thought that tow lamps will work but only at the time the small plants are so small soon started to think about getting more lights. The very small cuttings started to grow a bit. The very small cuttings started to stretch and got some height. I made out of some paper like reflectors with a with surface on the down side. Also got 4 more lightbulbs. Now a total usage of about 80Watt was pulled from the wall plug. Now you can now see a different between the 1st and the 6th day. More leaves and more height.
The plants on the left side are the Auto flowering AK cuttings. They will be continue to be bigger and faster than the Bigger Bud cuttings. I think it depends on the strain. I separated the plants because they where touching the wall and used for that the second box. You now can see that the flower is a female by those white hairs.
Re-potted the plants from a 2,5L pot in to a 7L pot to give the roots some extra space. Now every plant got his own lightbulb. I cut of some leaves witch where at the very low of the strain those just waste energy that the plant could use it somewhere else. You can now clearly see that there is a bud under construction. I would say "Very early pre flowering phase". I just cut the last few branches to give the plant more power somewhere else. Now even more tiny hairs starting to show up. As I woke up in the morning and had a look for my plants. I was every impressed that I four buds building at the same height. I tried to tie down some branches to give them some extra space and to get more light to grow under all those leaves.
Now the leaves also get covert by tiny little cannabinoid trichomes. Even more trichomes on the leaves and the starching phase stopped.
More trichomes are building. Only the Ak cuttings are now in this stage the Big Buds cuttings are still in very early pre flowering stage. Is it just me or did the trichomes grow in size? You can totally see now that the girl is in flowering and grown her buds.
Some pistols have turned brown. Nearly every leave which is closer than 4 cm next to the stamp is totally covert in a tiny layer of trichomes. I got my self a Microscope to have a look on the trichomes on the plant. I took those awesome looking pictures. Higher quantity and more height. Still clear pistols.
The buds got really big and they smell very tasty. Sugar leaves are totally covert in trichomes. The head bud got a size of about 4cm in diameter. A small comparison between tow AK plants. Some are growing smaller with bigger buds and some are growing bigger with more buds but those are smaller. Looks like that some pistols have turned in the later phase of flowering. Some pistols got a small brown dot. Some more Pistols have turned brown. Very crystaly plant.
Just some plants started to turn ther pistols brown and some others are very close to harvesting. This plant is close to harvest. This plant had some very dried out top leaves.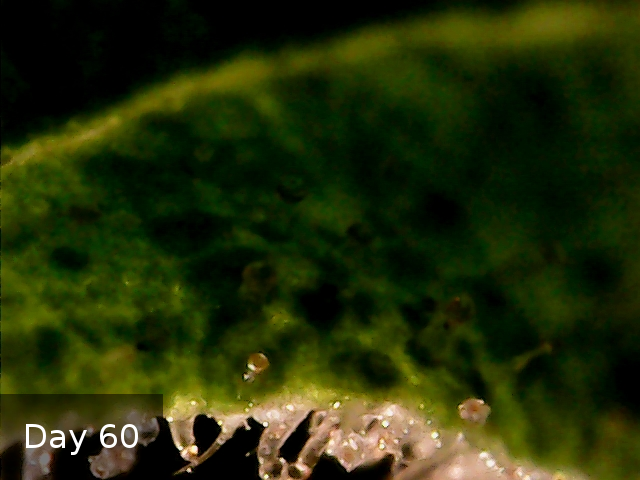 This stage of the trichomes is a good example for a hybrid weed.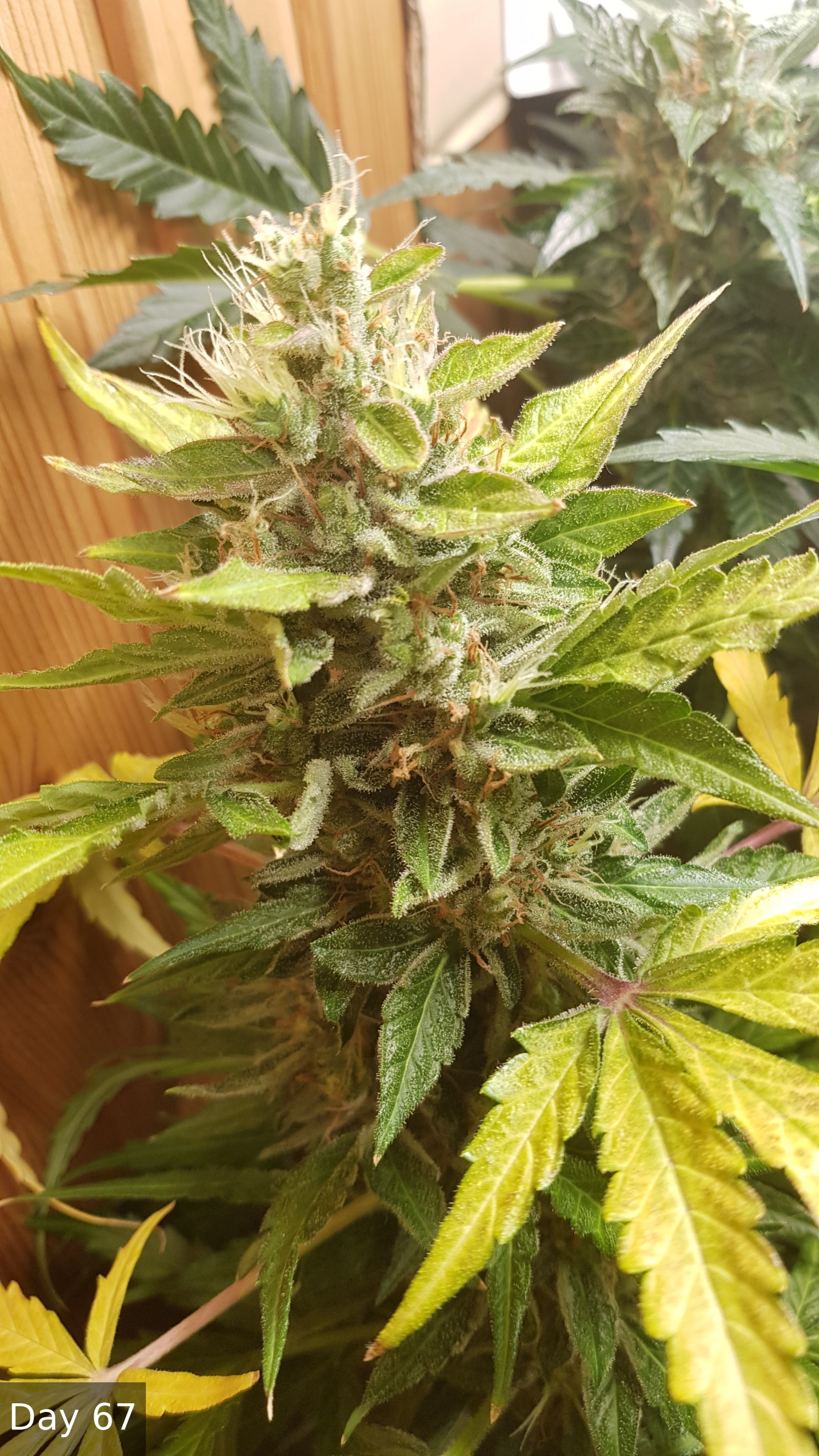 This plant started to turn there leaves yellow while I flushed them over time.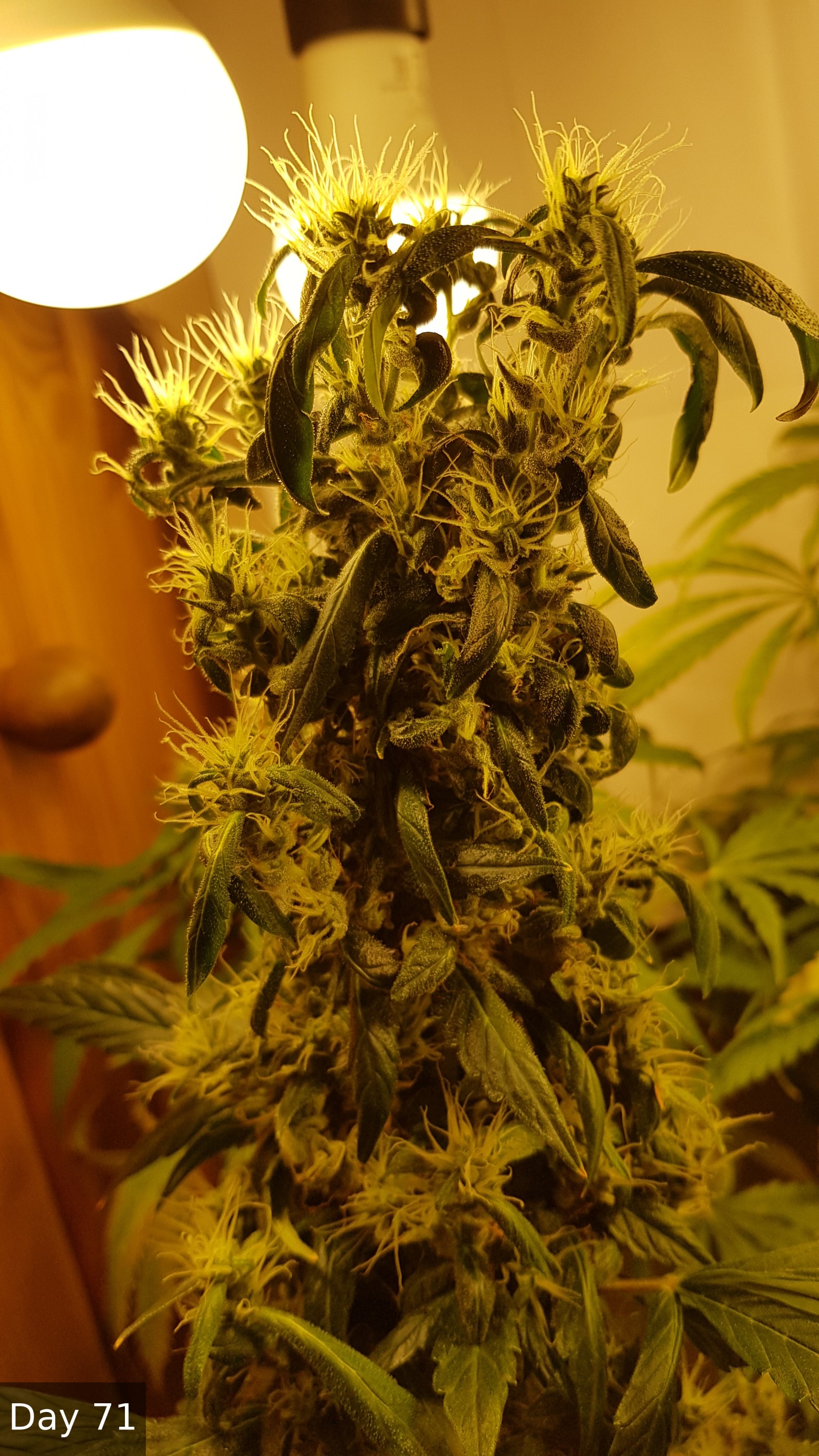 Some plants are not even in the phase where they produce there buds.
This was my biggest bud with about 23cm length from a AK strain plant. An up close photos shows some very crystaly leaves and over all a very white bud. Fresh cuted bud. In my opinion this bud looks amazing. 15 Packages of 7g each and some 1g bags. AK D59: 15g AK D71: 14g AK D79: 29g BB D50: 7g BB D76: 27g BB D79: 17g AK = Ak Plant BB = Big Bud Dxx = Day of Harvest Total weight dried and cured 109,40g / 3,858 oz / 0,241 pounds.